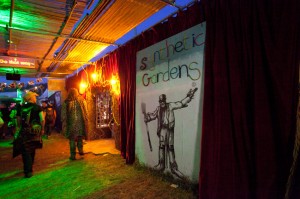 Welcome to The Gardens
The Synthetic Gardens is an immersive multi-media interactive installation comprised of paintings, sculpture, performance, film, sound and plants.
The exhibition is an artistic response to concerns regarding the upcycling and reuse of urban waste and our impact on the environment. The Gardens evoke a dystopian experience where plants and machines have mutated, fused and evolved, producing a twisted pastiche of post-apocalyptic permaculture.
Be transported into a parallel world where questions are raised and not necessarily answered. The Synthetic Gardens engage visitors with notions of impending doom and yet at the same time, through beauty and humour a sense of optimism and hope is inspired.
Each manifestation creates a unique Garden experience. Audiences may encounter walk-about characters, interactive games, live sonic concerts, trash flowers that tower about you, or living plants that burst out from amongst the paintings. Every nook and cranny is festooned with detail: bizarre inhabitants of organic, industrial or mechanoid nature.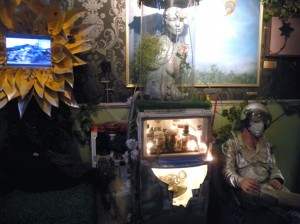 The Synthetic Gardens is like no other horticultural experience. Everyone will find their own path through it, young or old, green or destructive. It has been described as the unholy alliance between Mad Max and Alan Titchmarsh, and is an experience not to be missed.